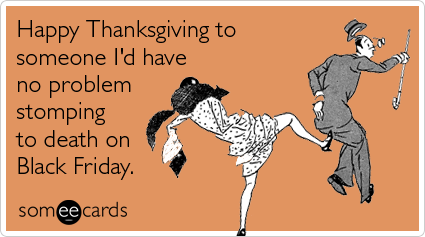 Hello. Welcome to my new and improved blog. It is 12:33 a.m. and Thanksgiving is officially over, making today, officially, Black Friday.
I know I probably should be turning in early tonight, so that I can get up at four in the morning to stock up on colorful, synthetic–crotched underwear at Kohl's, but the truth is that I don't much care for shopping, and I care even less for crowds--particularly crowds of frenzied shoppers with full colons. That, to me creates a dynamic that is really, really anxiety-provoking. Call me neurotic.
And speaking of neurotic, I saw a television ad Thursday, announcing that Petsmart will be open at 7 a.m. this morning, for special doorbuster savings on
Christmas gifts for pets.
Far be it from me to be judgmental *cough*, but can you imagine the kind of freakshow this will attract?
Don't get me wrong--I love my cats very, very much, but if you ever find me wrasslin' crowds at the buttcrack of dawn to buy discounted liver snacks and catnip mice, please take me to the pound and have me euthanized.