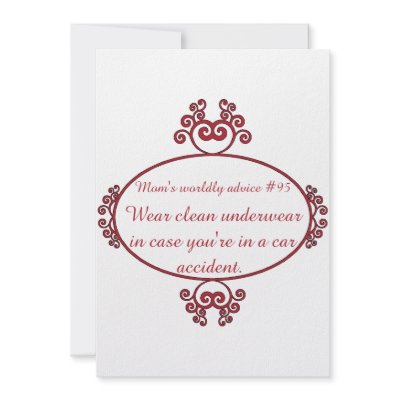 *cue
soundtrack
*
If you're fortunate enough to have a lovingly neurotic Jewish mother like mine, you know that you should always wear clean underwear with no holes.
Because God forbid you're in a car accident and have to be rushed to the hospital—the doctor will undoubtedly judge your nasty-draws-wearin' ass and, as a result, give you substandard medical care.
However, what your momma won't tell you is, if the paramedics do rush you to the hospital, you will likely be
c-spined and immobilized
for several hours, during which time there is a good chance you will soil that clean underwear because those by-the-book ER motherfuckers won't let you get up to take a piss/shit.
Fortunately, when I was in a car accident several days ago, I wasn't wearing any underpants at all. I was wearing stretchy yoga pants that I'd pulled on commando-style that morning, because I didn't have the energy to dig through the laundry basket for a clean pair of panties.
(This is the part where my mother disowns me.)
Curiously enough, however, my minimalist choice of asswear that day facilitated my kind ER nurse and me in my novice utilization of a
bedpan
that afternoon. Because let me tell you, it ain't easy to maneuver a crippled, immobilized ass onto one of those disgusting things, and the less pants, under- and otherwise, the better.
Okay, now that I've totally disgraced my family and friends and cashed my last remaining shreds of self-respect, my job here is done. Besides, this shit hurts bad. Ugh.